Welcome to LaifuBot!
This page will walk you through the daily commands/tasks you will end up doing while playing.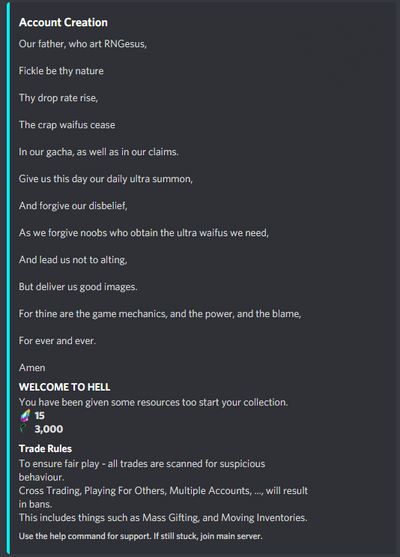 If you haven't done this yet, the .start command is the way to begin.
Disclaimer : If you are unable to start with the .start command, please join the LaifuBot Support Server and go to the #support channel to get it sorted.
After that, you are ready to play Discord gacha. If you now do the .cds command, it should look similar to the below picture.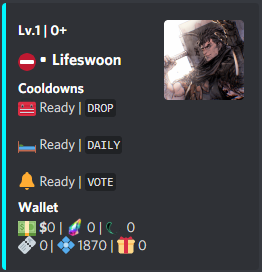 What does each of these means :
Drop (Red Toolbox) : Using the .drop command is the simplest way to obtain Lawstones. This is up every 6 minutes.
Daily (Bed) : The .daily command will be your daily way to gain 5 Lawstones per day. This is up every 23 hours.
Vote (Bell) : The .vote command grants you 15 Lawstones for signing in with your discord and voting for the server! This is up every 12 hours.
Cash (Money) : This is the currency you will use to buy cards from the Auction (with the .auction command), roll in the Casino for badges, or use in the transferring of badges.
Lawstones (Rainbow Gem) : This is the currency you will use to gacha new cards. These can be gained via Drop, Daily, Vote, and Burn commands.
Nightmares (Spinning Green/Black Mist) : Nightmares are what the player consumes to gain experience and level up via the drop command. Every 15 burns grants 500 Nightmares.
Arena Tickets (Ticket) : These tickets are used in the PvP Arena and can be gained through .daily (x3) or burning 15 cards if you are in the 4th bracket or higher (x1).
Upgrade Materials (Blue Diamond) : This is the currency from the Arena that you will use to upgrade and customize your cards.
Gifts (Present) : This shows if you have any gifts. (This feature is not implemented at this current time.)
~~~~~~~~~~~~~~~~~~~~~~~~~~~~~~~~~~~~~~~~~~~~~~~~~~~~~~~~~~~~~~~~~~~~~~
Doing these commands is a relatively easy process. The commands are: .drop / .daily / .vote
When you are using the .drop command, a Drop File will appear in the chat. To claim this file, simply type the 4 or 5 letter verification code that appears.
It will either successfully claim the drop and show you what you have received, or give you a failure to claim message, to which you can try again in 15 seconds.
The cooldown of the drop command is refreshed every 6 mins so you could claim a drop at an interval of 6 mins.
When you are doing the .daily command, a message from LaifuBot should appear in chat and will say:
"It's a new day! Wake your waifus up to collect your rewards by reacting to the emoji on this message."
All you have to do is react to the emoji the bot posted. You will know you did it properly when you get a Daily: Claimed message.
If you are server boosting the main LaifuBot Server, you will gain an extra 5 stones on each daily!
The .vote command is a little different from the previous two. It requires you to follow a couple of steps to grant you the 15 Lawstones.
Once you type .vote into the chat, a message from LaifuBot will appear to say, "Thank you for voting for Laifubot. Rewards are sent automatically. If they do not arrive, you can accept them manually using this command again." Followed by a link to top.gg where you can vote on the bot!

When you click the link, it will ask you to sign into your Discord, or have you authorize the site to use your Discord connection to allow voting. For some people without the use of AB's, you may have to watch a 15 second ad or so and for the rest you simply wait a few seconds and a button will appear that you can click to "Vote".
After you click that "Vote" button, you are finished.
Those are the basics! Make sure you grab as many drops as you can, do your daily, and vote to maximize your Lawstones !
Don't forget, if you ever need help with commands, you can always do .help cmds to see the list.
If you are in the server and have other questions, please check the # -support channel and ask.